Words by Sophie Smith | Photos by SWpix.com
---
Out of all the Monuments, there is a case to be made that Paris-Roubaix is the grandest. The unreserved, collective disappointment last week when the 2021 edition was again postponed amid the COVID-19 pandemic attests as much.
People shared screenshots on social media of weather forecasts, despondent that they were not only going to miss Roubaix but a potentially wet Roubaix.
Few if any other race garners such a reaction from the peloton, pundits and fans alike.
Mathew Hayman competed in Paris-Roubaix 17 times – the most participations of any Australian – and on the fifth anniversary of his 2016 triumph, an upset win in which he denied Tom Boonen a record-breaking fifth title, he reflects on why he was so, like many others, affected by the race.
"I'm not really sure how Roubaix ended up being my favourite race. It definitely is and that was long before I won it," he says.
"I came over from the amateurs and I remember really fighting pretty hard to get my first start there, needing to perform in the other classics to get a start. Flanders at that time was pretty hotly contested. There was always a spot in Roubaix for a neo or a couple of young riders."
Stories from the 'Hell of the North', which traversed northern France near the Belgium border, were intimidating but Hayman replies that the race suited his characteristics, and fans from cycling's traditional homelands were striking.
"You'd heard all the stories made people scared, but then also the crowds and the atmosphere in France there. Getting closer to Belgium, the Belgian fans as well, I remember my first couple of years going through Carrefour de l'Arbre and the amount of beer-breathed Belgians that were yelling at you, it was a tunnel of crowd and fans," he says.
Standing at 1.89m and weighing more than 80kg when he was competing, Roubaix, with its flat roads and sharp, uneven cobblestone sectors through pastures haunted by battlefield soldiers, suited the physical characteristics of the bigger riders in the peloton like him.
"There's not many races on the calendar quite like it, so once you find a race like that, that suits your qualities, then you start to enjoy it," Hayman says.
"It's hard but the thing for me was I find a mountain stage in the Tour de France a lot harder because it's not something that I enjoy, it's not something I'm good at. Where for Roubaix, I'm ready to go. That's the one race I want to be at, that's what I've been looking forward to, that's what every training session through November and December has been about. That's why you do the extra kilometres, is to be ready for that race."
My lasting memory of Paris-Roubaix is bumping into Hayman at the 2013 edition, which Fabian Cancellara won. I have photos on my Instagram of Cancellara after his victory, collapsed on his back on the grass inside the velodrome. Roubaix had pushed even the man, myth and legend that was Cancellara to exhaustion.
The combination you'd think would be intoxicatingly overwhelming but truthfully, I don't even remember taking that photo.
I was working as and for British press so wasn't assigned nor needed to speak to Aussies but outside the velodrome I saw Hayman walking and abruptly asked if we could have a quick chat. Reaching the velodrome is like reaching Paris at the end of the Tour de France, it's considered an achievement in itself.
Hayman's entire face was covered in an even layer of fine, brown dirt as he gestured towards a nearby car. After almost six hours of racing over jarring cobbles that the peloton sprints to be in position for, he needed something to rest against.
Hayman didn't appear quite with it as he spoke. His eyes moved as if he was flicking through a rolodex looking for something important. He appeared to be reliving every point of the race, talking to himself as much as he were to me, so much so that afterwards I questioned whether he'd remember what he said and whether it was therefore ethical for me to report.
"Physically, yeah, of course you're spent at the end of it. You're spent at the end of it because it's also the end of all the classics and you're spent mentally because it's all done, there's no more classics to try," the now Team BikeExchange sports director recalls.
"You get to Roubaix and I think that's the emotion that comes out in that velodrome is not just about that race, but everybody's classics campaign done. You're sitting on the grass there and weighing up how it went, the last five or six months of your life being dedicated to those races. You've got a balance sheet there and nine times out of 10 it's pretty disappointing.
"Out of my 19 years [as a racer] I look back and really only a few of them were successful. The rest of them were a disappointment."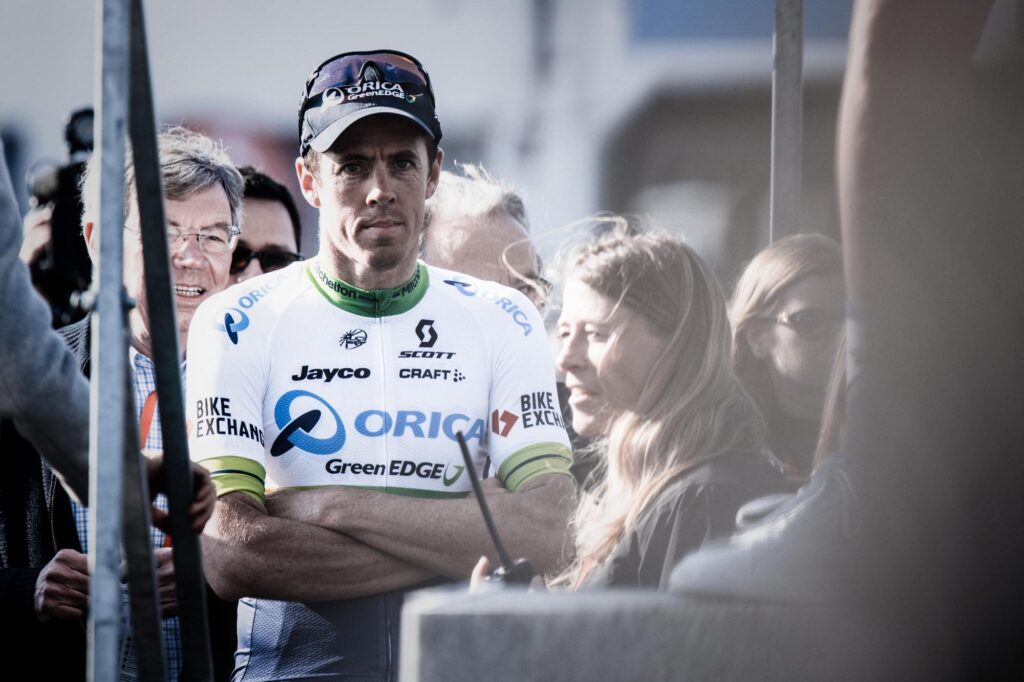 Hayman is not your typical champion. He is as ardent, precise and angry as one but forged a long career as a selfless team player who worked in the service of others.
In the second half of his career, Roubaix became a chance Hayman was otherwise never afforded.
"It was the only race of the year where I had a bit of leadership and a protected role where the guys would be helping me. I shied away from being road captain and just focused on myself," he says.
"A lot of pressure was put on myself from myself, nobody else. It was for many years a love/hate relationship. A few top 10s there, you know, gave me a glimmer of hope that maybe one day I could be on the podium. And that was always the dream, to end up on the podium in Roubaix."
The distinction Hayman makes between finishing on the podium – not necessarily winning – is a nod to his conditioning as a team player versus the sure and encouraged winners, like Boonen, who he outsprinted in the 114th edition.
Winners will tell you that they're going to do just that and if they don't a teammate, rival or healthy portion of the peloton will. Hayman, who lined up under a sunny sky in Compiegne in 2016 – just weeks after fracturing his arm in Het Nieuwsblad – said no such thing.
"Not even in the back of my mind did I think it was possible to win that year. A win, I didn't really dare dream about but in the back of mind I felt like I could maybe end up on the podium if the race went my way," he says.
The first critical part of his campaign that year, his 15th race appearance, was getting into the primary escape with then teammate Magnus Cort Nielsen.
"I could save energy as far as we didn't really have to sprint for any of the sectors, just rolling over, concentrating on eating and drinking and waiting for the big guys to come," he says. "And I think that was another thing, through my experience, of just knowing that they would come and not trying to make that breakaway go as far as possible, but just being there ready for when the leaders come across."
The second critical point was a realization that he was "actually on a good day". "When Ian Stannard and I came together on Carrefour de l'Arbre I was dropped off the back of the front group there and really felt my race was done. My shoulders slumped and I thought, 'Argh, this is my lot, this is what I deserve,'" he reflects.
"Fighting back on there at the end of that cobble sector and realising that actually I'm not that tired, or I am tired but not as bad as I thought I was, and these guys aren't as strong as I thought they were the sector before, from that point on, I grew in confidence.
"Being able to get back on, on such a critical, hard sector when Sep Vanmarcke is attacking, that gave me some confidence and from that moment on I started to believe that I was actually on a good day."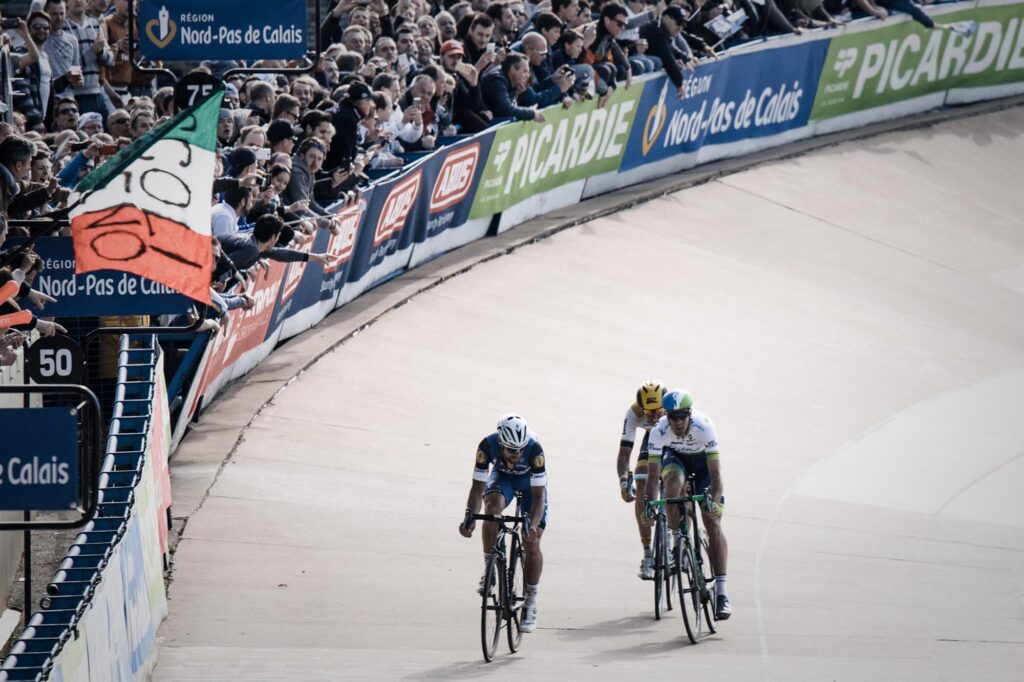 Hayman began racing in Canberra – Australia's sterile capital city that was founded 11 days before the 18th edition of Paris-Roubaix in 1913. Aside from cold winters, it couldn't be further removed from the cultivated history of not only the race but its surrounds. The Carrefour de l'Arbre was apparently the setting of the Battle of Bouvines that ended a war fought almost 400 years before Europeans discovered Australia.
But Hayman, three years after recounting his race like something was missing, in 2016 rode into Roubaix in the eye of the perfect storm, bolstered by childhood memories.
"I was surprisingly calm going in there in the lead," he says.
"I had grown up in Canberra racing on the velodrome. I'd raced as a junior all the way through to the amateur ranks, so I had a bit of previous form on the velodrome.
"Coming in, look, I could have given Tom and just led him out and I would have been probably guaranteed a second place. In hindsight, that was probably the safest thing to do because normally you don't beat Tom in a sprint, and I dreamed about being on the podium," he continues.
"But by the time we came around to the bell [lap] everybody had returned so there was five of us back together, with Sep being the first one to come back and then Ian Stannard and [Edvald] Boasson Hagen, who were all fast in their own right."
The team player gave way to the Narrabundah kid racer as Hayman went high up the track.
"To be honest it was all just impulsive. I wasn't really thinking, I wasn't really making decisions," he says.
"I feel kind of lucky in that defining moment in my career that I was actually not struck by the moment itself and was just racing.
"I felt like I was racing my bike like I thought you were supposed to race. You know, if somebody attacks you go across and you go over the top of them.
"It's not until I look back that I think how much of it all could have gone wrong. You know, I did hit out early in the sprint, I could have been beaten but at the time it was me having fun, enjoying racing.
"I was pretty relaxed and not the way I would expect somebody who had an opportunity to win Roubaix would be in the closing moments, knowing it was all on the line and in the next few minutes history would be decided."
Denied the chance to finalise respective balance sheets, the peloton, as we transition into the Ardennes, will now harbour a similar anticipation until autumn.
How Roubaix will play out then, if it does, remains as uncertain as Hayman was even in the closing kilometres of his fateful day in hell.
But that is part of the appeal.
"Even into that last bend I was still just thinking about getting on the podium but somewhere deep down I guess letting those other guys back into the race, and not just leading Tom out from a lap out, I was feeling maybe a bit more confident than I thought," Hayman recalls.
"On those bikes with the tyres pretty flat after a hard race, to go high, to get that extra height and length to pass somebody on a velodrome, I knew that if you led out you had an advantage. I could stay low, and the guys were fighting on my wheel and the rest is history."
Listen to the La Course En Tête podcast – including interviews with Mathew Hayman, Matt White and Brian Holm plus our in-depth look into Paris-Roubaix >