Words by William Fotheringham | Photos: LB/RB/CorVos/SWpix.com
---
UPDATE: This piece was originally filed on March 5 last year… But it's become timely once again, after the newspaper l'Equipe published a survey showing that the majority of WorldTour riders who responded felt Strade Bianche should be candidate for the status of "6th monument. The newspaper also suggested that the term "Monument" was first used to describe cycling's most iconic one-day races by their then cycling correspondent Philippe Bouvet, in the late 1980s, when the UCI founded the World Cup and called into question exactly which one-day races really mattered to the world of men's bike racing.
From a bike racing perspective, Covid-19 messed up the seasons good and proper in 2020, which meant that the first sighting of the phrase "Strade Bianche should be a Monument" was not a harbinger of spring, but a marker of high summer. This year, though, well done to men's world champion Julian Alaphilippe for getting in there early. Spring is here. The daffodils are nodding. The birds are being noisy. The dust is about to fly on the sterrate. And Strade Bianche should be a Monument.
The phrase trips easily off the lips of the commentators and flies across the Twitter feeds. If it does, that speaks justifiably of the highest praise for a race that has established itself in heads and hearts in a matter of a few years, more rapidly than I can remember any other new bike race doing in the 40 years (gulp) since I started to follow the sport. This is only the fifth edition in the WorldTour.
However, it's worth pausing for a moment and asking ourselves what a Monument is, or should be, in bike racing terms, because it's not that long since the whole question of what and where one day races should be and how they should be ranked was put up for grabs. And it's worth doing this only with a proviso: we all have our individual feelings about which races matter to us, for different reasons. What follows is a personal view.
No one seems to be sure when the term was first coined to describe the five biggest one day races in the sport. I'm happy to be corrected, but I don't recall it being used much before the last 20 years at least. My sense is that it is used specifically because the five great one day races, and the Tour de France are the time-honoured poles in the season, fixed at very specific dates in the year, which form the starting point when the cycling calendar is devised. Like Stonehenge or the Colosseum, their historic status is always respected.
So my first criterion for "Monument status" would be the strongest possible sense of time in the narrative of the cycling year: Lombardy effectively closes the season, Milan-San Remo opens it. Paris-Roubaix is the second Sunday in April. The Tour of Flanders is the week before Roubaix. Liège is the week after Roubaix – in my view it should be that way every year, not alternate seasons, because the one point about a Monument, in bike racing terms, is you shouldn't be wondering when it takes place, and it should feel like something is wrong with the world if it isn't at the time it should be. Which is one good reason why 2020 was so totally discombobulating.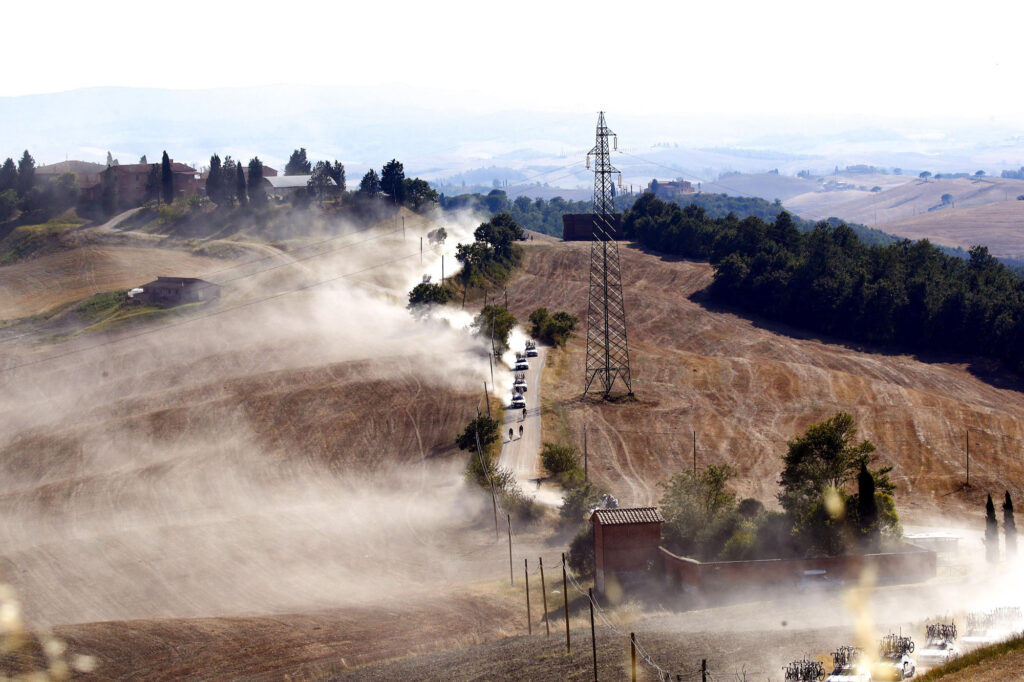 Time is my first criterion. Place is my second. All five Monuments have the strongest possible identity in terms of their location, to the extent that certain relatively small stretches of road – Arenberg, Poggio, La Redoute, Ghisallo – have become fixed points as well. San Remo, Roubaix and Liège can't really finish anywhere else. Flanders and Lombardy are more movable but organisers mess with this at their peril. Lombardy went through a frightful period when it finished on an anonymous industrial road outside Monza in the 90s, and it regained its identity when it returned to the most traditional finale, the small hills leading into Como; I couldn't help feeling something of the essence of Flanders was lost when it was shifted to a circuit.
In place terms, it goes without saying that Strade Bianche scores higher than many other races, probably as highly as the five Monuments. Those white roads feel unique. But that protected status in the calendar is meant to ensure something else for the Monuments: the best possible field. Strade Bianche clashes with Paris-Nice, still seen, just about, as a build-up race for Milan-San Remo, so let's see how many of the best Classics riders have opted to race in France. More than you'd think: Mads Pedersen, Matteo Trentin, Arnaud Démare, Yves Lampaert, Michael Matthews. You can't imagine any of that bunch missing San Remo or the Tour of Flanders. However, given the rate at which Strade Bianche has gained stature, who'd bet against every Classic specialist riding it before too much longer?
On top of time, place, and quality of field, you can argue distance and history. Strade Bianche can afford to be shorter than the Monuments and Ghent-Wevelgem, because the off-road quotient is so demanding. If Paris-Roubaix could include 63km of cobbles, up hill and down dale and as long as the sterrate sections, it could arguably be run at under 200km as well. History is debatable too. Flanders became international only in the 1950s when the Italians turned up, and Liège was in deep trouble due to organisational issues as recently as the 1980s. Other races than the five Monuments have distance, or used to, and plenty of others have history. History and distance didn't save Bordeaux-Paris or the Championship of Zurich.
History matters in another way. In the early 90s, the UCI head Hein Verbruggen had a go at creating a season-long World Cup, that was intended to take the sport international. That involved inventing Classics in countries outside the European heartland, in a half-assed way, but it also entailed chopping the distance out of non World Cup races such as Ghent-Wevelgem. Races like the Championship of Zurich, Paris-Brussels and Paris-Tours never truly regained their stature after this experiment. Official or not, the designation of the Big Five as Monuments feels like a reaction to this: you mess with their date or location at your peril.
Strade Bianche feels on a par with Classics such as Wevelgem, Het Nieuwsblad, Flèche or Amstel. But it doesn't yet feel like a race where all the one day specialists are saying, "I can't possibly miss that. It has to be on my schedule," and personally I don't think, "it's Strade Bianche, it must be the first weekend in March." It didn't feel out of season in its August slot last year in the way that the Tour of Lombardy did – there was still plenty of dust and dirt in the one, no falling leaves in the other.
Finally, let me put one other thing out there. Strade Bianche is not just a brilliant race, it should be placed at the heart of a whole officially designated series of partly off-road one day events, based on dirt tracks not cobbles. You could add into it races like Tro Bro Leon, Ghent-Wevelgem (those Plugstreets), CicleClassic, Dwars door het Hageland, and maybe Paris-Tours with its vineyard tracks. I don't know what you'd call the series – "the dust epics" maybe – but to me, right now, that's more where the sterrate should be given their place than among those immutable Monuments.