Words by Nick Bull | Photo by @noa_arnon 
---
There's a moment from Israel Start-Up Nation's training camp in Spain at the start of the year that stands out for Cherie Pridham. "I was sitting next to a rider and we were just chatting about normal things, nothing cycling related, on the team bus heading back to the airport," she said. "Then all of a sudden they said 'you're just like one of the other DSs!'."
A fair and accurate comment, yes, but it is worth remembering that Pridham is anything but. As the manager then owner of Team Raleigh and Vitus Pro Cycling, two UK-based UCI Continental squads that ran from 2011 through to 2020, she was already a trailblazer, albeit an incredibly underappreciated one (certainly on my part). Shortly after the pandemic forced her team to close at the end of last year, she became the first female directeur sportif at WorldTour level after joining Israel Start-Up Nation. The New York Times, little known for its cycling reportage, covered her appointment. The response to being unveiled on 4 December has, in her own words, only just begun to quieten.
She said: "I genuinely assumed there would be a bit of hoo-ha and that there'd be some criticism because I'm a woman before things moved on. Yet a couple of weeks later I was still doing interviews with media all around the world. The number of private messages I had from women of all ages was incredible. I didn't expect that. A few weeks later it dawned on me that perhaps I do have a responsibility to those people here, and I can help them out by sharing my experiences and proving that by being an optimistic person it's possible to grab those opportunities."
Pridham's path to the WorldTour began when she started racing aged 11. Born in the UK but raised in South Africa (owing to her father's job in the Royal Navy), she rode eight Tours Cycliste Féminin and the Giro Rosa twice during a lengthy pro career that included spells on Belgian, French, Italian and Swiss teams. "I think I'm a fighter," she said, attributing that to her experiences as a teenager and young adult. "I had to find my feet when I came back to the UK, pretty much without my family, and my racing career came before women's teams started to become more professional."
Spells managing junior teams and British domestic squads post-retirement led to her teaming up with Raleigh as they relaunched a men's team 10 years ago. She purchased the team in late 2013. "Even at this time I never gave the idea that I might be a trailblazer," she added. "Cycling is just a way of life for me. I just crack on."
The decision to close Vitus down first entered her mind last autumn. Like all British Continental teams that have come before, the relentless battle to secure funding, combined with the uncertainty of a domestic racing calendar featuring few high-profile events and ever fewer that are insulated from the effects of COVID-19, played a key role in Pridham's decision.
She said: "It felt like the right time for me. I couldn't do it half-hearted. For example, I've always cared about how the team looked – historically I think that we've looked bigger than we actually were based on our appearance – and I wouldn't have wanted that to change. I look back and think 'I've done that now'. We had such good times between 2011 and 2016, looking back. Budgets were a bit more fruitful off the back of London 2012. We weren't just racing in the UK – we were going all over the place. In the moment we probably didn't realise how fortunate we were. It was during this time that I made the decision to start looking at what I could do next. During that process I asked myself 'why can't I send emails to WorldTour teams?'."
Incredibly, barely a couple of hours after the decision to close Vitus was made final on a mid-November evening, Israel's general manager Kjell Carlström approached Pridham about joining the fledgling team. "All credit to Kjell – from my first conversation with him he wasn't as interested in my CV as he was exploring how I could fit into the team and what Israel Start-Up Nation can do to become more diverse," she said. "The team's approach is really refreshing. No one rider is bigger than the team."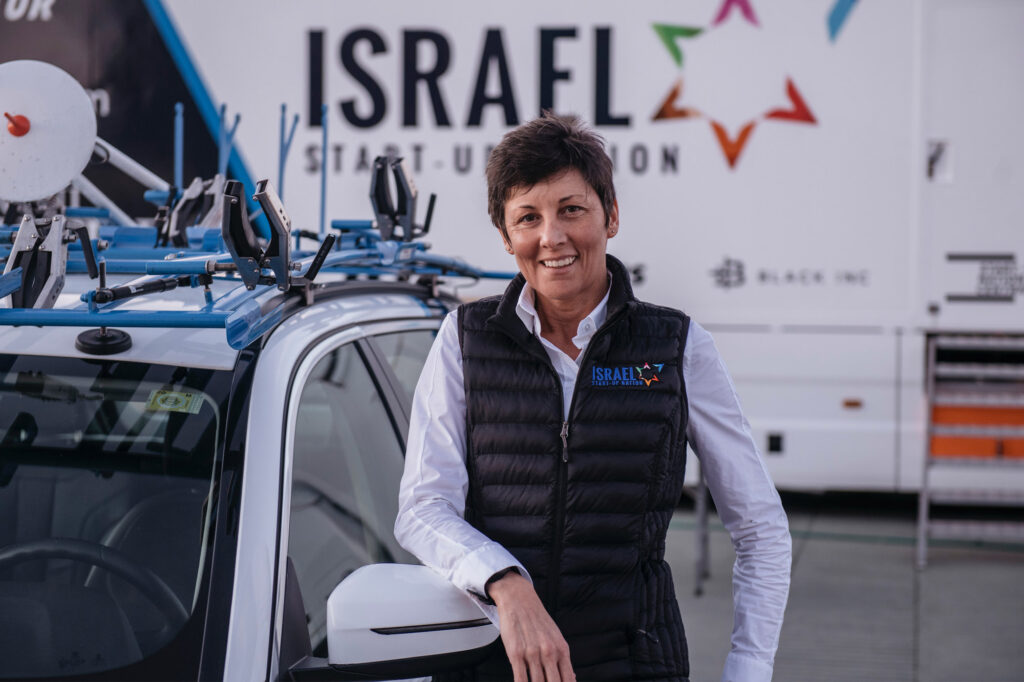 Pridham said she attended the team's pre-Christmas DS camp in Girona, at which the 2021 race programme was mapped out, with a "massive smile" on her face. Not even a week of 11-hour days detracted from the enjoyment of her new surroundings. As detailed plans for this year (complete with lengthy pandemic-related contingency) emerged from the in-depth sessions, the extent of the step up from Continental level (where UK teams operating with a yearly budget of £250,000 are increasingly rare) to the multi-million pound nature of the WorldTour became clear.
"Budget is clearly the most significant thing, absolutely no stone is left unturned," she said. "There's a really good structure here. The team have brought in [Grand Tour stage winner] Rik Verbrugghe as our head DS and signing riders like Chris [Froome], Sep [Vanmarcke] and Michael [Woods] shows how we're trying to grow. We're still a very young team and are the underdogs of the WorldTour. There are so many other talented people behind the scenes; going from trying to oversee the commercial, business and sporting jobs singlehandedly at a Continental team to this has taken a bit of getting used to. I'm learning every day."
And what of the step up to WorldTour level and the new races that she'll encounter in 2021? "I try not to get too drawn into the fact that they're WorldTour races. The concept of preparation doesn't change; I get to use VeloViewer on a daily basis now. I've never had that opportunity before. I can look online and watch old footage. There are websites full of information and results. I think the big thing for me is getting a feel about the flow of these races. Even then, looking at how racing has been since last summer, it feels like it has changed. There's a new dynamic to it – I think it has become more aggressive. There are more challenges for teams. They need to think even more about how they use their riders now."
COVID depending, Pridham will make her debut in the team car in the coming month – nearly a year on from Vitus' last international hurrah at Le Samyn, which coincidentally was won by Israel's Hugo Hofstetter last March. She admits that the significance of the occasion is not lost on her. "I'm no dummy, I know people's eyes will be on me for the first races," Pridham said. "I've been asked if I feel pressure – of course I do! So should every DS. We're there to get results. Thankfully, the team are being really good with my development – I'll be DS1 (head sports director), DS2 and DS3 throughout the year. But I feel ready to hit the ground running now."