Words by Nick Bull | Photo by CorVos/SWpix.com
---
As the conversation at Trek-Segafredo's dinner table last Sunday night turned away from that afternoon's Gent-Wevelgem and looked ahead to the fast-approaching Tour of Flanders, a few of the team made a notable observation.
"We were looking at the list of former winners," said Ellen van Dijk, one of those involved in the discussion inside a Best Western on the outskirts of Brugge, "and we noticed that there have only been two repeat winners at Flanders. It was also pretty cool because Lizzie [Deignan], Elisa [Longo Borghini], Ina [-Yoko Teutenberg] and I were discussing this – we're all on that list of former winners."
It's a remarkable stat: the last 12 editions of the Ronde have generated 12 different winners. Only Mirjam Melchers (2005 and 2006) has won consecutive editions, back when the race finished on the Halsesteenweg in Ninove, while Judith Arndt's two wins (2008 and 2012) are split evenly between the old and new Flanders courses. Teutenberg, who retired in 2013 and is now Trek's DS, started this run of different yearly winners in 2009. It is a list that includes the sport's biggest names: Annemiek van Vleuten (2011), Marianne Vos (2013), Deignan (2016) and Anna van der Breggen (2018). By comparison, the GP de Plouay has had eight different winners in that time, Trofeo Alfredo Binda seven and Flèche Wallonne just five, largely because van der Breggen has won it six years running. Fabian Cancellara won three of the last 12 editions of the men's Flanders, too.
But given how some of Flanders' previous champions have been at the forefront of women's cycling over the past decade, how come they've never doubled up at the Ronde? "It's a race with a lot of different opportunities, so maybe that's why," added van Dijk. "In some races you know it's always going to be a bunch sprint, for example, but in Flanders many scenarios can happen and do happen." Additionally, without there being a Milan-Sanremo or (until October) Paris-Roubaix equivalent on the women's calendar, its prestige isn't lost on the riders. "Flanders is the classic of the classics," said Longo Borghini. "Everybody is at their top level. If you're passionate about cycling this race means the world. The history behind Flanders is huge. You feel it during the week: people are warming up. Yes, it was different last year when we could not have the crowds, but normally the atmosphere before race day is like a festival. Passing on the Kwaremont you smell the beer and roasted meat."
Ceratizit-WNT Pro Cycling's Lisa Brennauer, who finished fourth in 2020, agreed with the Trek riders' assessments. "It's special in so many ways. It's constant; cobbled section after cobbled section, climb after climb. And the atmosphere… you cannot help but get into the race as much as the fans do. All these factors give me so much enthusiasm for it. It's a real achievement getting on the podium in this race." Equally telling about the significance of Flanders is that our request to interview Marianne Vos last week was turned down by her Jumbo-Visma team, on the grounds that they were keeping her diary "free from all media activities so she can fully focus on the race".
Since the Flanders route was controversially changed in 2012, the Kwaremont – the top of which will fall 16.7 kilometres from the finish in Oudenaarde on Sunday – has been the location of the race-winning move four times. Three successful attacks went in and around the Kruisberg (a little over 25 kilometres out) and one went on the approach to the Paterberg. Van Dijk was the first to successfully win following an acceleration coming off the Kruisberg, helped in part by the element of surprise. "Now everybody expects it," she said. "Everybody is super alert at this point. It's still a very hard point in the race: if you want to make a difference and you're feeling good you can. You know attacks will go here, they just may not be successful."
Coming 126 kilometres into the race, the Kruisberg is where fatigue kicks in, according to Brennauer. "You've come through the town, the race gets strung out, and then comes this cobbled climb. It's a super hard one," said the German rider. "But once you're at the top of it, you turn left, back onto tarmac, and shift into the big chainring. However it's not over there – the road keeps dragging, and it's not so long before you hit the [uncategorised] climb in the woods. To me, it feels like it has become the section where attacks get set up before the race-winning move goes." Cecilie Uttrup Ludwig, who finished third in 2019, also believes Sunday's race will be decided at this point of the race. "Everybody is so keen and so motivated to be in the top 10 when we turn right into Kanarieberg so you have to be ready from that point on," said the FDJ Nouvelle Aquitaine Futuroscope rider. "I think actually the final will play out before the Kwaremont. I think people will go on the unexpected points, the flat sections when people are not paying attention."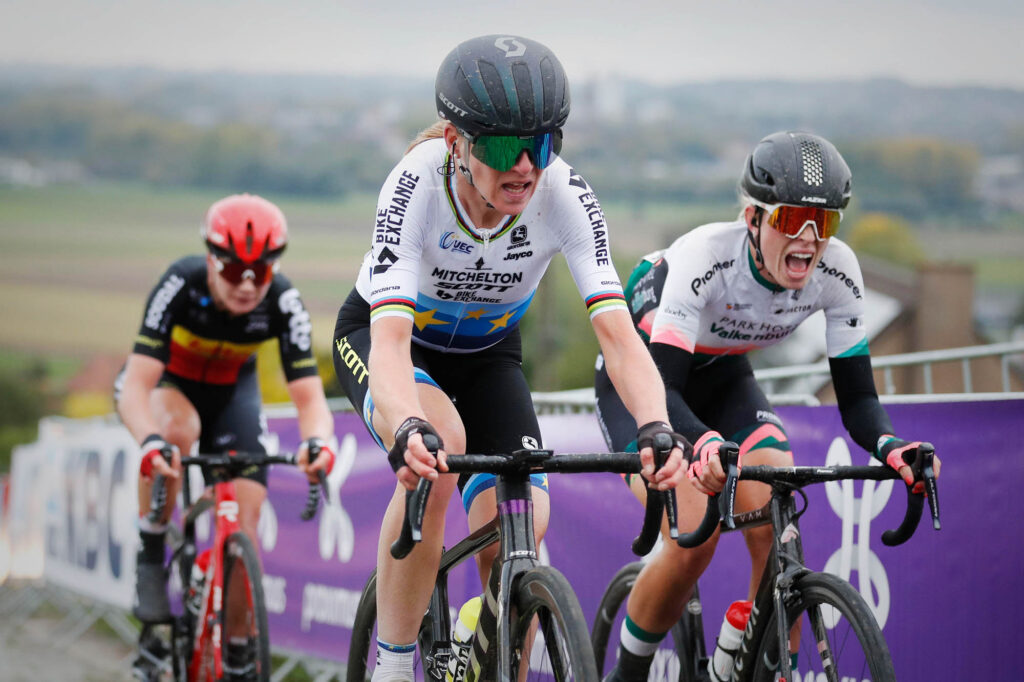 Even when Flanders comes down to the Kwaremont, sensing an attack is about to happen is one thing. Responding is another. The helicopter shot used in the television broadcast of van den Broek-Blaak's race-winning move on the false-flat section at the top of the climb last year gave it an appearance of a stealthy acceleration as opposed to an explosive one.
"The Kwaremont is the longest and hardest of the climbs in terms of power," said Brennauer, who was at the head of the reduced front group when the Dutch rider attacked. "It's not as steep as the others but it takes so long to get over it. When she attacked we had already been going so fast already. She came, she had more left and she could go away from us. It was at a moment when everybody was so tired." Longo Borghini, who was also close by, added: "No, I wasn't surprised when she attacked. I knew they were riding for her. This is one of those attacks that I expected – I just didn't have the legs to follow."
Another vagary of Flanders is that predicting what time gaps riders need where and when differs wildly yearly. "I knew the breaking point was the Kwaremont," said Longo Borghini of her 2015 solo victory. "I knew if I came out of that with 40 seconds I had a chance to win. My brother was there on the side of the road at the top of the climb; he was telling me that I had 50 seconds. I realised that if I went full I could win the race." By comparison, in October's race, van den Broek-Blaak had a little over 10 seconds when she crested the Paterberg. She won by over a minute. The somewhat freak 2017 edition is the only race in which a front group with a defined lead over the top of the Paterberg was caught before the line, as 45 seconds were wiped out by a chase group (more of that shortly). A quartet of chasers knocked 20 seconds off a half-minute gap they trailed the leaders by in the final 11 kilometres two years later but ultimately ran out of time.
Attacking and going clear is one thing. But what happens when you end up in a less than desirable move? The sight of van der Breggen visibly grinning having bridged across to compatriot van Vleuten to neutralise her long-range attack made coming off the Kruisberg in last year's race will be long remembered. The pair have history in the race: despite instigating the four-rider move who broke clear – also over the top of the Kruisberg – in 2017, van der Breggen eventually stopped cooperating with her three escapees: van Vleuten, Longo Borghini and Kasia Niewiadoma. They were caught under the flamme rouge, an outcome Niewiadoma described as "just shit". Justice was arguably served: van den Broek-Blaak, whose presence in the chased group impacted on van der Breggen's decision to stop taking turns, was beaten into third by Coryn Rivera and Gracie Elvin.
Four editions of the race (2012, 2013, 2016 and 2019) have seen small groups come to the line together, illustrating how difficult it is for riders to launch attacks in the 13.2 kilometres that separate the top of the Paterberg and the finish line. Recalling the 2019 edition, in which she and van Vleuten battled it out with Marta Bastianelli for the victory, Uttrup Ludwig admitted she knew her chances of victory were slim. "When I was sitting in that group I did think 'oh shit' because Marta was flying that year. Normally it's not a good idea to come home with a sprinter. There are so many good riders who can survive these short climbs: if you bring Lotte Kopecky or Marianne Vos to the line it's like you're dealing with second or third. If we want to get rid of these super sprinters we have to hope for a super hard race." Yet to win a WorldTour race during her professional career, the Dane has made little secret of her new approach to racing in 2021 and beyond. "I've mentioned before that I think it's super cool to get WorldTour podiums but now I really want to go for the win. I'd rather risk it and get 20th. It's a bit like I've either got to risk big and win big or risk big and lose big."
Brennauer went into last year's Flanders off the back off consecutive eighth-place finishes in the event. In the sprint for second, she was pipped narrowly by Amy Pieters and Kopecky. "This finish – it's really a pain," she joked. "You see the line for such a long time because it's on a straight road. You have to tell yourself to wait and open the sprint at the right time. But you're already so tired it's almost impossible to turn your pedals around. How are you going to sprint? These are the thoughts that go around in your head."
The Ronde is arguably cycling's biggest numbers game, too. Four of the last seven editions have seen teams claim one-twos (Boels-Dolmans in 2014, 2018 and 2020; Wiggle Honda in 2015), while Boels took an arguably even more impressive one-three-four-six in 2016. One can only imagine how van den Broek-Blaak, Pieters and Jolien D'hoore – all of whom had never crossed the line on the Minderbroedersstraat first at that moment in time – felt ahead of last year's race when van der Breggen, the reigning world and time trial champion, committed to riding for them. "I think your chances decrease when you don't have a super strong team," said Uttrup Ludwig, who is hopeful that Marta Cavalli and Emilia Fahlin can support her in the final 25 kilometres on Sunday. "You have to choose which attacks you follow [when you're alone] and sometimes it's luck that you choose the right one. But you want to be on the team who can play the numbers."
While van Dijk's palmarès may list a single Flanders victory, history needs to record the role she played in both Deignan's and Rivera's triumphs. Her pacesetting on the Kwaremont weakened the Briton's rivals and set up her attack en route to the Paterberg five years ago; she then helped chase down the four-rider move in 2017 that produced an anomalous bunch sprint from which Rivera became the first American winner of the race.
"It's really nice when you can give something back for somebody," van Dijk said. "The year I won Lizzie was my back-up. She was there for the sprint if I was caught, so it was nice that I could do the Kwaremont at a high pace for her in 2016. When Coryn won, I didn't have my good climbing legs that day so I couldn't follow on the Kwaremont. But then afterwards I closed the gap back to the first [chasing] group. I knew that I could still play a big role in the race. My thinking wasn't like 'I couldn't go with the best riders, it's all done'. Situations can happen, especially with the long straight to the finish. I like time trialling so I was in my comfort zone."
There's one more factor that has impacted on Flanders in recent years but arguably applies across the entire calendar: the quality of riders in the women's peloton. "The minimum wage has really helped," said Uttrup Ludwig. "More people can live off cycling now, instead of riders working next to cycling. Back in the day when I was standing [and working] in a supermarket… that's not super good for recovery." Van Dijk agreed, adding: "The level and depth is getting bigger. There are more top riders who can win races; a couple of years ago it was Marianne Vos or whoever. These days the wins are getting divided up – the four WorldTour races so far have all had different winners. It's so unpredictable."